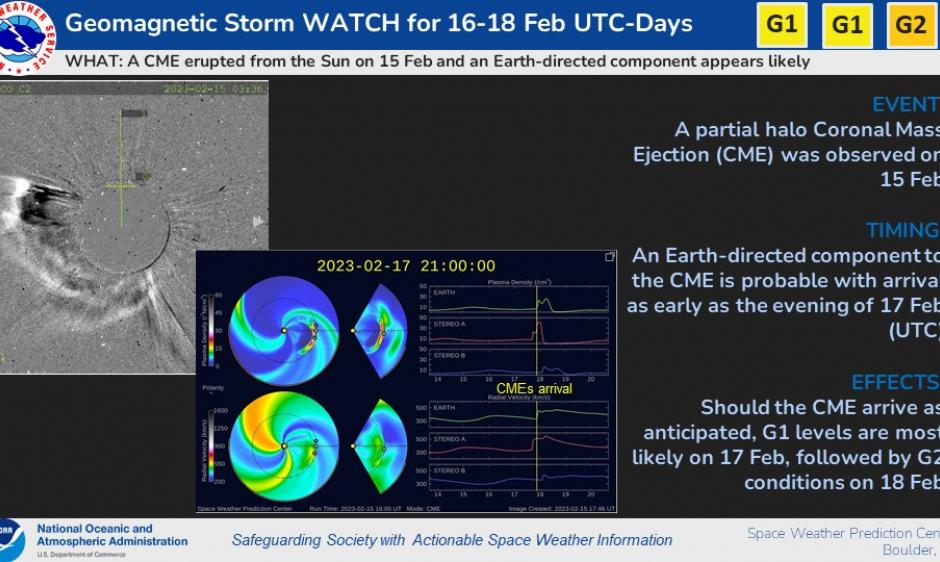 G1-G2 Geomagnetic Storm Watches issued for 16-17-18 Feb 2023
published: Sunday, February 19, 2023 04:43 UTC
A G1-Minor Geomagnetic Storm Watch has been issued for 16 and 17 Feb, with a G2-Moderate Geomagnetic Storm Watch following on 18 Feb 2023. The G1 Watch on 16 Feb is for continuing effects from the CME that passed by Earth earlier today. G1-minor storm conditions related to this event are expected to last into the early (UTC) hours of 16 Feb.
Separately, on 15 Feb, a coronal mass ejection (CME) was observed in SOHO/LASCO coronagraph imagery, departing the Sun at approximately 15/0212 UTC. WSA/Enlil analysis indicated that this CME has a likely Earth-directed component with an anticipated arrival time near mid-to-late day on 17 Feb (UTC). G1-Minor conditions are likely on 17 Feb, with G2-Moderate conditions likely on 18 Feb as the main driver of the CME arrives at Earth. 
Potential impacts from a G2 level storm include: Power systems: High-latitude power systems may experience voltage alarms, long-duration storms may cause transformer damage. Spacecraft operations: Corrective actions to orientation may be required by ground control; possible changes in drag affect orbit predictions. Other systems: HF radio propagation can fade at higher latitudes, and aurora has been seen as low as New York and Idaho (typically 55° geomagnetic lat.). Subsequent warnings and alerts may be issued as conditions warrant.
As always, stay tuned to this page for updates. Check out our webpage for other space weather forecasts, models, and general information.