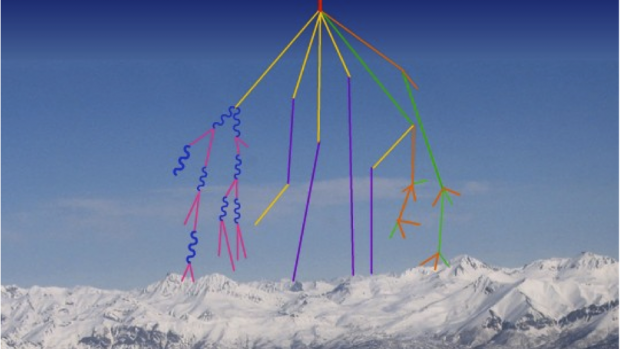 Galactic Cosmic Rays (GCR) are the slowly varying, highly energetic background source of energetic particles that constantly bombard Earth. GCR originate outside the solar system and are likely formed by explosive events such as supernova. These highly energetic particles consist of essentially every element ranging from hydrogen, accounting for approximately 89% of the GCR spectrum, to uranium, which is found in trace amounts only. These nuclei are fully ionized, meaning all electrons have been stripped from these atoms. Because of this, these particles interact with and are influenced by magnetic fields. The strong magnetic fields of the Sun modulate the GCR flux and spectrum at Earth.
Over the course of a solar cycle the solar wind modulates the fraction of the lower-energy GCR particles such that a majority cannot penetrate to Earth near solar maximum. Near solar minimum, in the absence of many coronal mass ejections and their corresponding magnetic fields, GCR particles have easier access to Earth. Just as the solar cycle follows a roughly 11-year cycle, so does the GCR, with its maximum, however, coming near solar minimum. But unlike the solar cycle, where bursts of activity can change the environment quickly, the GCR spectrum remains relatively constant in energy and composition, varying only slowly with time. (See Forbush decrease for short-term changes of GCR related to space strong solar events)
These charged particles are traveling at large fractions of the speed of light and have tremendous energy. When these particles hit the atmosphere, large showers of secondary particles are created with some even reaching the ground. These particles pose little threat to humans and systems on the ground, but they can be measured with sensitive instruments. The Earth's own magnetic field also works to protect Earth from these particles largely deflecting them away from the equatorial regions but providing little-to-no protection near the polar regions or above roughly 55 degrees magnetic latitude (magnetic latitude and geographic latitude differ due to the tilt and offset of the Earth's magnetic field from its geographic center). This constant shower of GCR particles at high latitudes can result in increased radiation exposures for aircrew and passengers at high latitudes and altitudes. Additionally, these particles can easily pass through or stop in satellite systems, sometimes depositing enough energy to result in errors or damage in spacecraft electronics and systems.
Image courtesy of: https://www.windows2universe.org/physical_science/physics/atom_particle/...
Impacts: Satellites Humans in Space Passengers and Crew on aircraft at high latitudes (polar routes)